GUT HEALTH
The most complete set of Digestive Solutions that will satisfy your needs and help you achieve your goals.
GUT HEALTH
The most complete set of Digestive Solutions that will satisfy your needs and help you achieve your goals.
Support your digestion. A healthy digestive system will lead you to stronger immunity, clearer skin, healthier hair and better energy levels.
4 Stages to Digestion Solutions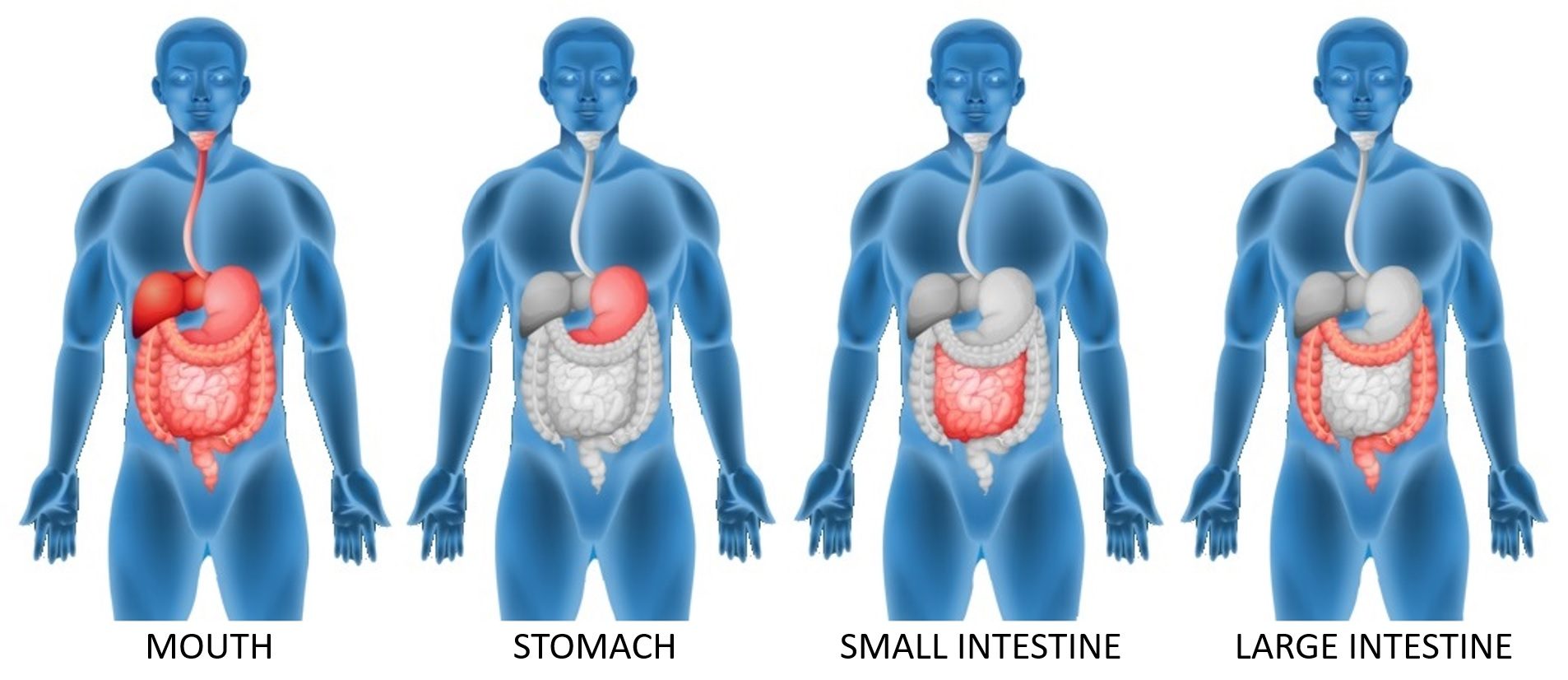 The 4 Stages of Digestion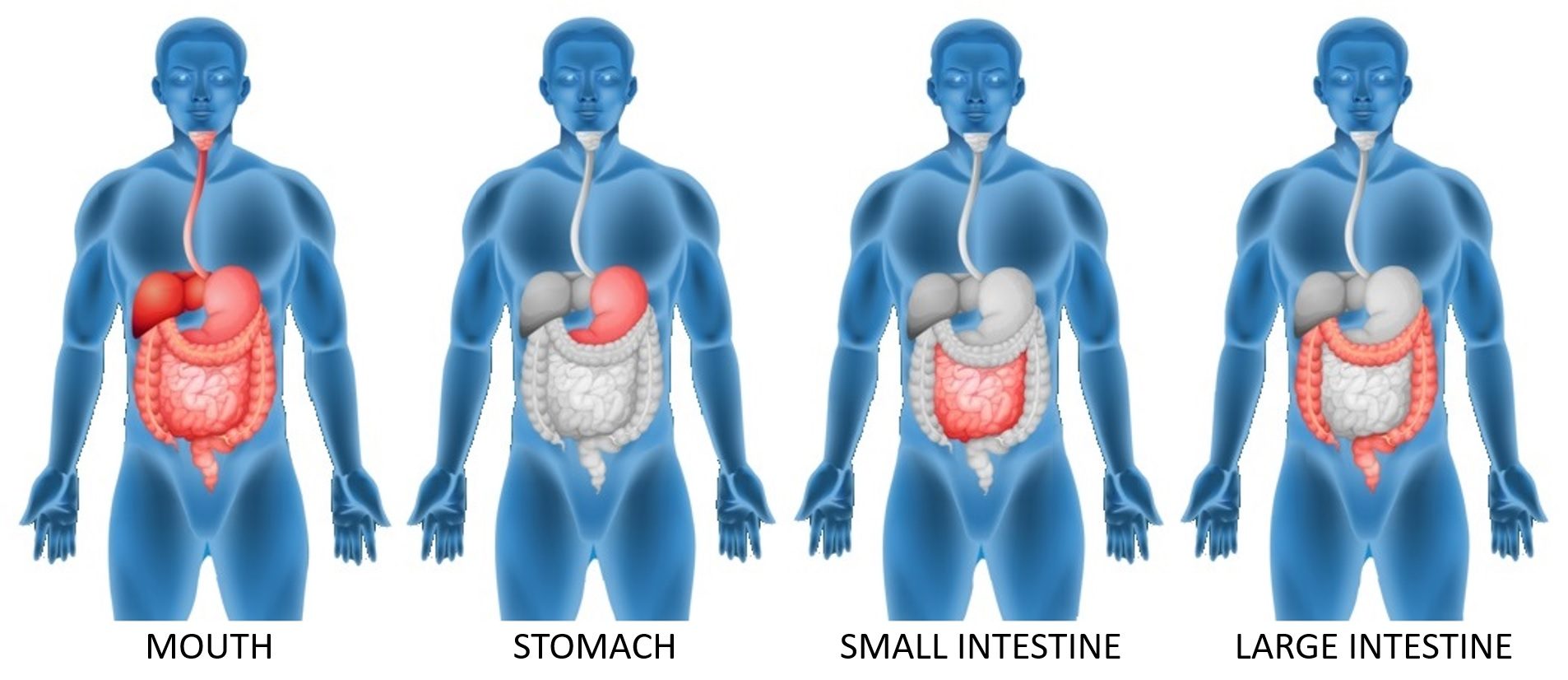 Your human digestive system consists of the food tube, organs and glands which secrete juices into it to help in the digestion of food. The process of digestion includes a mechanical and a chemical phase. Digested food is absorbed by the body with the help of the circulatory and lymphatic systems. Undigested materials are passed through the anus into the external environment.
Step 1 – Digestion starts in the mouth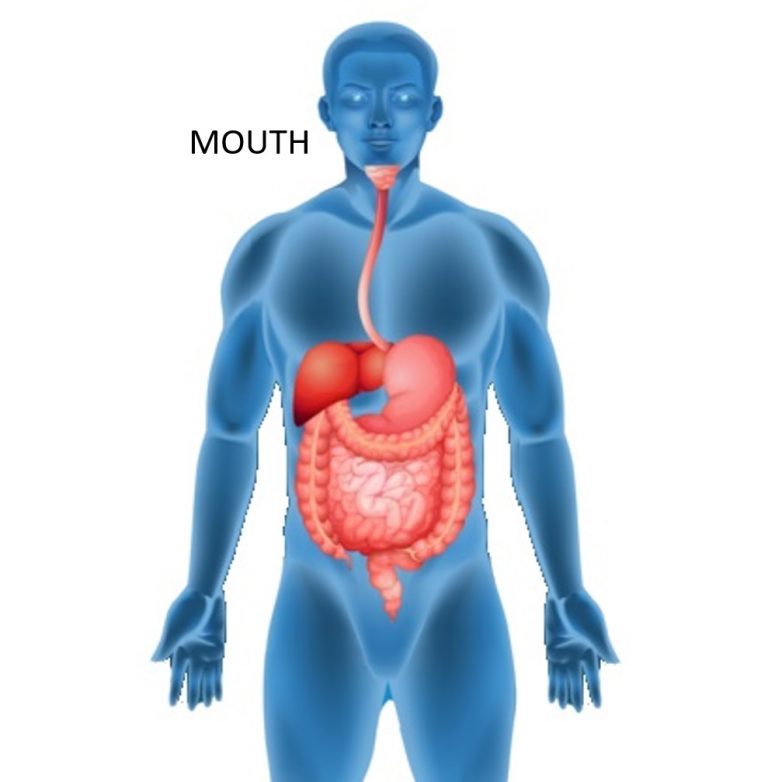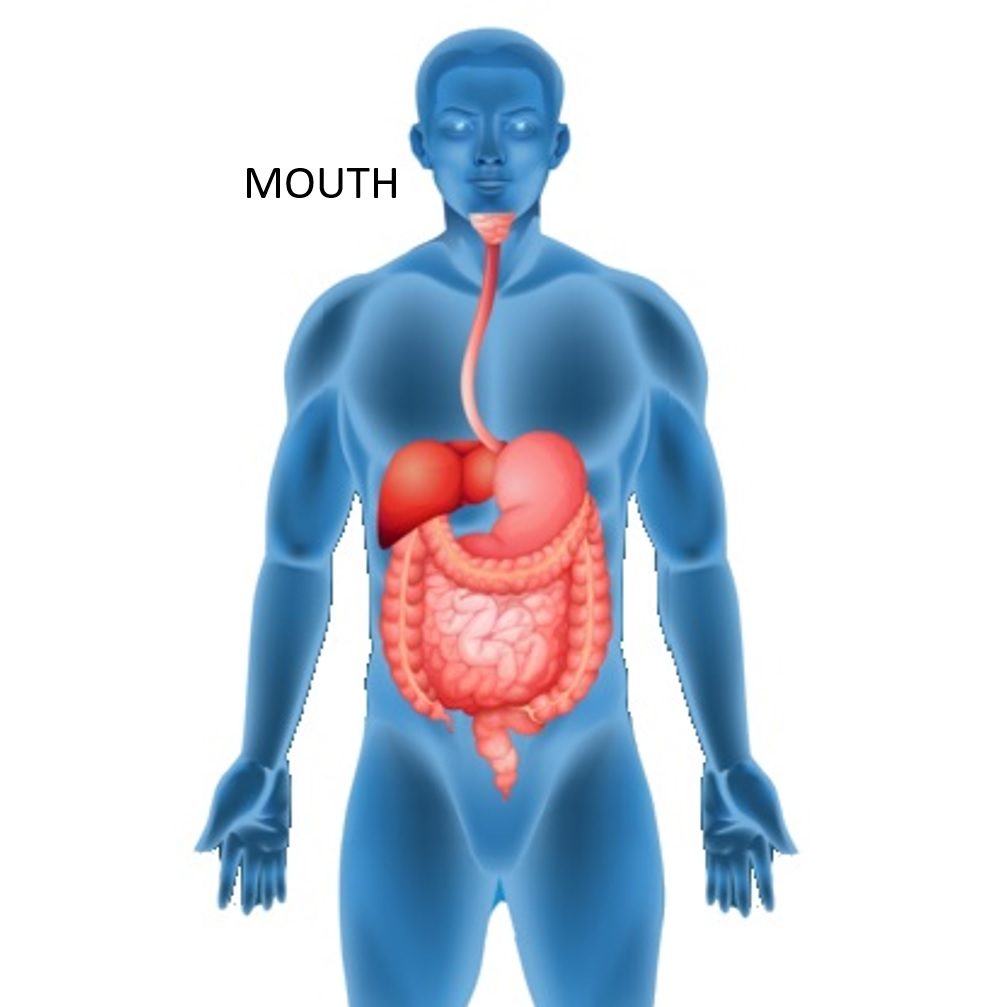 When you chew food, your teeth mechanically break down large pieces of food. This is where you start producing some simple carbohydrate-digesting enzymes in your saliva that start the digestive process.
Step 2 - Stomach acid and enzymes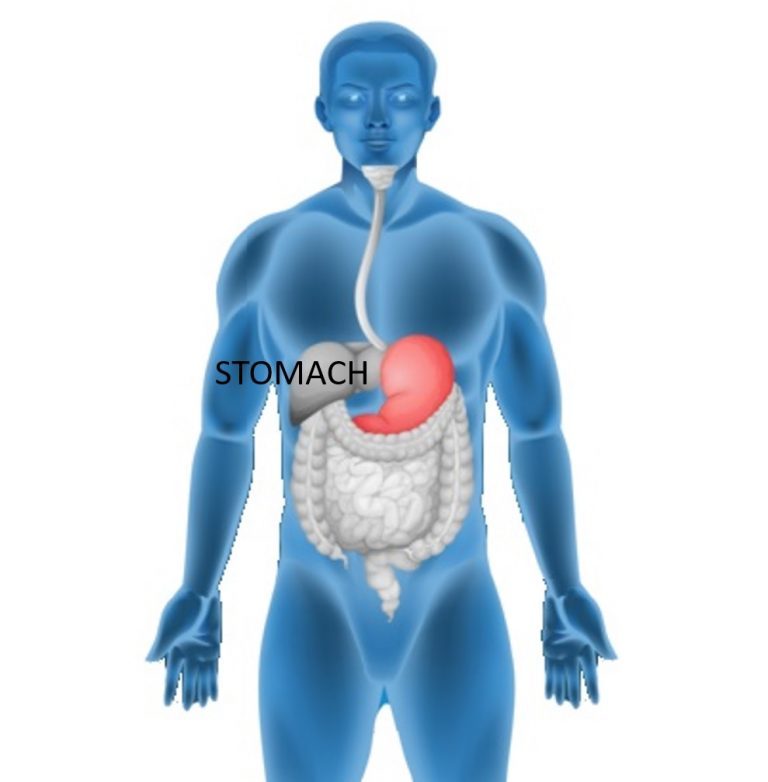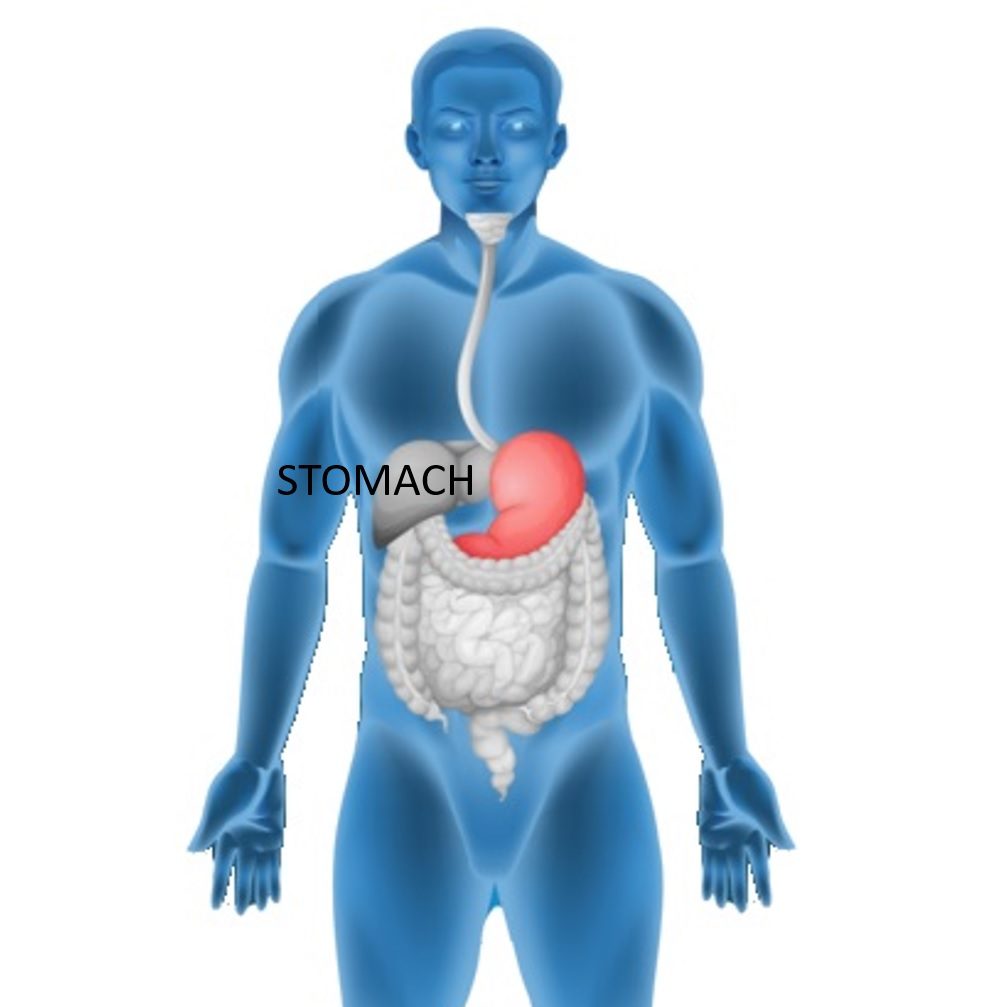 The food travels down your oesophagus to the part of the stomach called the cardiac stomach.
Gastric glands secrete gastric juice and mucin inside your stomach. Gastric juice contains hydrochloric acid (HCL) and enzymes. The food gets mixed with HCL present in the gastric juice. Hydrochloric acid kills bacteria present in food. It also destroys the structure of proteins, so that enzymes can digest them easily. HCL starts to decline in our bodies around the age of 25. Contrary to popular belief having too little stomach acid can cause heartburn (acid reflux). This is because your stomach has a small cap at the top which should close when there is enough HCL inside. If there is not it remains open through the digestion process and can cause issues.
Your body needs many different enzymes to break down food ready for absorption. Proteases, break down protein into absorbable, amino acids. Lipase converts fats into fatty acids and glycerol. Amylase breaks down carbohydrates into starch, then starch into sugars. Most people are lacking the enzymes they need due to ultra processed food and modern farming. We also cook most of our food which also kills the enzymes found in raw food. Without enough HCL and Enzymes this is half of the reason most people are suffering from digestive issues or can use them to optimize their digestion.
BiOptimizers Masszymes is a full-spectrum enzyme formula with over 13 different enzymes required for optimal digestion.
Step 3 - Digestion in the small intestine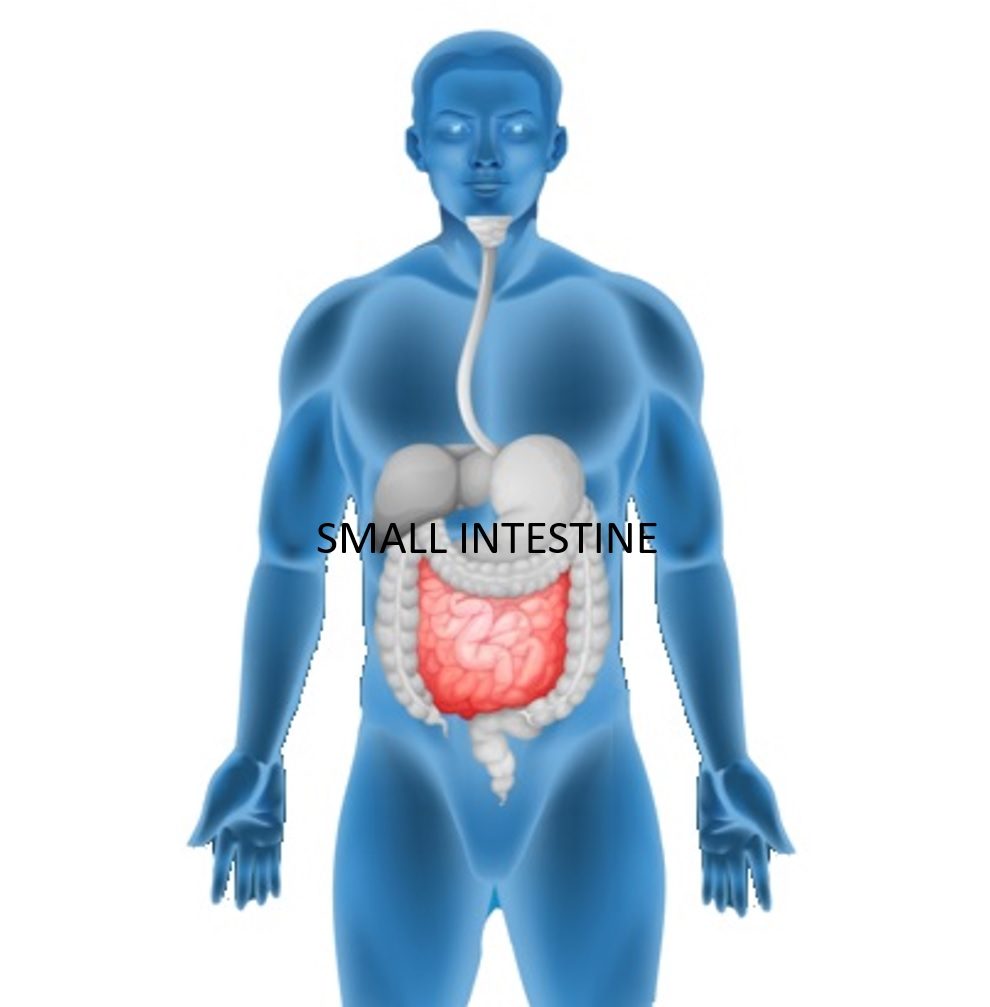 The digestion of food then takes place in your small intestine. Partially digested food stuff called 'chyme' travels to the small intestine. It is also here, especially at the lower portion of the small intestine, that most of the digested food is absorbed.
Your small intestine makes digestive juice, which mixes with bile and pancreatic juice to complete the breakdown of proteins, carbohydrates and fats. Bacteria in your small intestine produce some of the enzymes needed for digestion. 
This is where you need the right bacteria to help with properly absorbing your food. If you have an overgrowth of the wrong types of bacteria you will have issues like SIBO. A good quality probiotic will help to restore your good gut bacteria and improve digestion and overall wellbeing.
Small Intestinal Bacterial Overgrowth (SIBO)
Condition
Small Intestinal Bacterial Overgrowth (SIBO) is when you have too much bacteria in your small intestine. Everyone has bacteria in their gut; they play a key part in digestion but if things get out of balance, problems can happen. SIBO can be treated and lifestyle changes may be all it takes.
SIBO Symptoms
The symptoms can differ for everyone. SIBO may cause:
Belly pain

Queasiness

Bloating

Uncomfortable fullness after eating

Loss of appetite

Indigestion

Passing a lot of gas

Diarrhoea or constipation

Fatigue

Weakness
BiOptimizers P3-OM is the most potent probiotic available right now and controls the Growth of Bad Bacteria, Viruses and Yeasts in the Gut
Step 4 - Last stage of digestion in the colon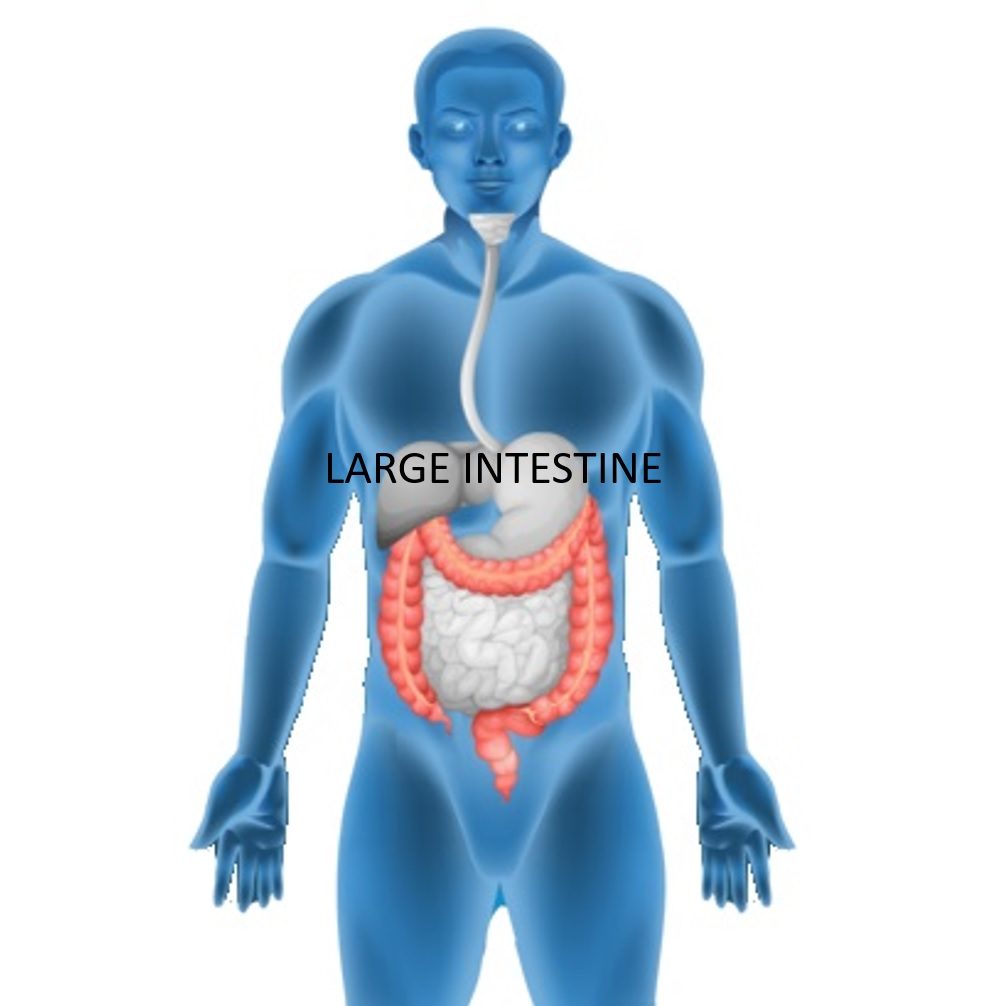 The last stage of digestion process is the elimination or excretion. When the chyme reaches the colon (large intestine), it is virtually devoid of nutrients. In the elimination phase, undigested food or food molecules that cannot be absorbed by your body need to be excreted. This is where indigestible wastes in the form of faeces, are removed from the body. The faeces, before leaving the anus, are stored in the rectum, which is the last part of the large intestine. Over time excess waste can accumulate in the colon, this is where colonic irrigation can help or there are herbal options available.
Why Are Enzymes Important To Digestion?
Nowadays, many of us suffer from suboptimal digestion. Digestive issues impact both our physical and emotional wellbeing. The main problem with digestive issues is nutrient deficiency since the gut can't properly digest, assimilate, and absorb nutrients.  People with suboptimal digestion experience: Bloating – when your stomach swells up due to the production of gas Irregularly.
People with suboptimal digestion experience: 
Bloating – when your stomach swells up due to the production of gas

Irregular stool – either being constipated or going too much 

Weight problems

Immune system compromisation

Skin issues 

Low mood and concentration 

Fatigue 

Problems with sleep 
Therefore, it is important to optimize our digestion to be healthy in all aspects. One of the factors that may contribute to suboptimal digestion is the lack of enzymes. 
Enzymes are proteins that speed up biochemical reactions in our bodies. They are also called catalysts, because they make biochemical reactions happen. They're powerful molecules that can be used multiple times. Also, enzymes work specifically, as typically each enzyme type only performs one type of reaction. We say enzymes help in the conversion of substrate to product. 
Enzymes are naturally produced in our bodies and are essential for all the body's biochemical processes. Digestive enzymes break down food and nutrients into smaller molecules that we can absorb. These nutrients are essential for your health.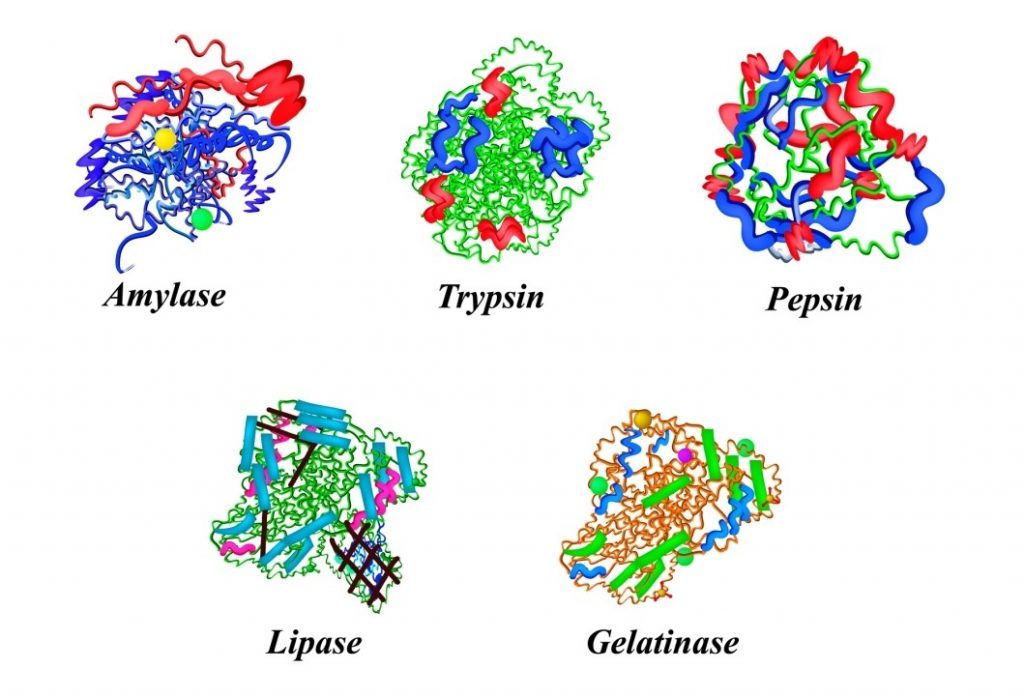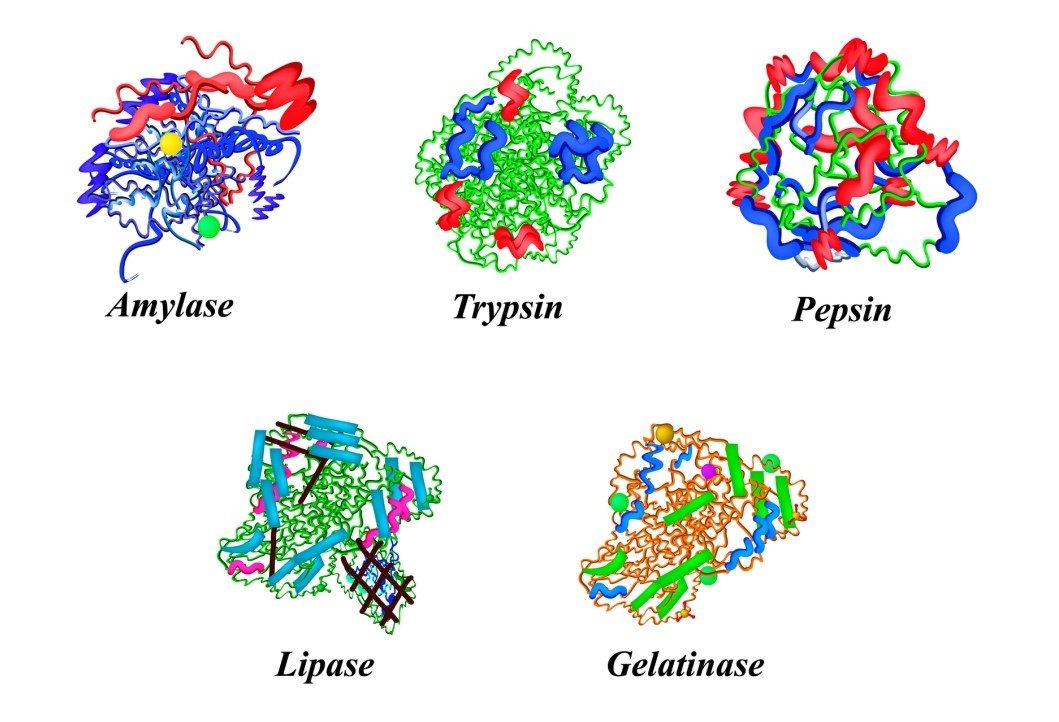 Digestive enzymes are produced by the gut and the pancreas. They break down our food (carbohydrates, proteins, and lipids) into smaller molecules. These smaller molecules are easier to absorb and transport throughout the body.
Digestive enzymes are classified based on what they digest. Our enzyme blend Masszymes contains all of these enzymes to ensure the proper digestion of all food groups: 
Amylase digests starches.
Alpha galactosidase can digest the milk sugar lactose (milk sugar) into glucose and galactose, reducing potential bloating and other gut problems from milk.
Cellulase breaks down cellulose fibers into simple sugars.
Proteases break down peptide bonds of dietary proteins to absorb amino acids.
Bromelain is extracted from the pineapple, and its digestive activity doesn't disappear after absorption. It breaks down proteins into amino acids.
Glucoamylase breaks down partially processed starches into glucose.
Lactase breaks down lactose, a disaccharide, into simple sugars. Lactose is usually found in dairy products.
Lipase is responsible for the digestion of fats in food. Specifically, it breaks down lipids called triglycerides into free fatty acids and glycerol.
Invertase catalyzes table sugar (sucrose) into glucose and fructose—two simple sugars.
Malt diastase helps digest starch into maltose, which is further broken down into glucose.
Phytase catalyzes the breakdown of phytic acid or phytates. Phytates are major forms of mineral chelators found in grains and legumes. They bind to important minerals, such as iron, magnesium, and calcium, preventing the absorption of these minerals.
Pectinase is an enzyme that breaks down pectin found in plants. Pectin is a form of plant fiber, which gives strength to the cell wall of plants. 
Hemicellulase can digest hemicellulose, a type of cellulose found in plant cell walls. Glucans, galactans, xylans, mannans, and pentosans are all different types of plant hemicellulose.
Beta-Glucanase digests carbohydrates, specifically beta-glucan, breaking down the glycosidic bonds within.
Peptidase is a form of protease that breaks down dietary proteins into amino acids. 
AstraZyme is a special blend of proteolytic enzymes, including extracts of Astragalus membranaceusPanax notoginseng, and trace minerals.
Many types of sugars, fibers, and starches are not easily digested, and humans don't naturally produce enzymes that digest these foods. These are left for your gut bacteria to ferment, which may cause gas and bloating, especially if your gut bacteria aren't adapted to these foods. Supplemental digestive enzymes can help with digestive discomfort, bloating, and other symptoms you may experience from eating these foods. 
What Is The Best Probiotic Supplement For Gut Health?
You May Know The Symptoms Well-A Bloated Belly, Embarrassing Gas, Or That Undeniably Heavy Feeling-But Did You Know That Probiotic Supplements May Ease Your Digestive Struggles?
Probiotics are beneficial bacteria within us. They play a key role in digestion, nutrient absorption and keeping bad bacteria at bay. These consequences trigger a chain of positive effects that impact the rest of the body and its ability to properly function. They've also been found to enhance mental health, cognitive performance, and immune health response.
Not All Probiotics Are Created Equal…
P3-OM contains patented strain proven to aid with food breakdown and nutrient absorption, as well as protect you from bad bacteria and pathogens![1]
Lactobacillus Plantarum OM, the powerful probiotic strain contained in P3-OM, has been found to contain proteolytic, antiviral, and anti-fungal characteristics and uses. Within days, you can experience a difference in symptoms such as gas and bloating, as well as a change in the overall health and performance of your digestive system.
Choosing The Best Probiotic
From over-glorified yogurts and fermented veggies, to bold label claims that more strains make for a better product, there's no shortage of opinion, or options, when it comes to choosing a probiotic. How can you know which probiotic supplements are best for your gut health? Unfortunately, many of the products found throughout your local grocery store may not be doing you any favors.
These probiotics are usually formulated with several strains. Their manufacturers assume that these various strains will survive the changing pH of your digestive tract, work with one another rather than in competition with each other, and will successfully distinguish the bad bacteria from the good. Few of these manufacturers actually study the efficacy of their probiotic products, and in some cases, may utilize strains that compete with your existing, healthy bacteria.[2]
P3-OM is packaged using a freeze-dry method, and in vitro lab studies have shown that it's capable of surviving the various pH levels of the digestive tract.
BENEFITS OF P3-OM PROBIOTIC SUPPLEMENT:
P3-Om helps strengthen and repair your gut barrier, decreases bloat, and helps with more efficient digestion and nutrient absorption, aiding in the prevention of leaky gut.
Symptoms such as constipation, diarrhea, bloating, indigestion, or irritable bowel syndrome (IBS) are often a consequence of undigested food. P3-OM produces protein-digesting enzymes that help you break down the food that you eat. It also ferments fibers and produces beneficial substances that support the gut barrier, balance the gut's immune system, and provide energy to the gut cells.
P3-OM has antiviral and anti-fungal properties. It also specifically kills bad bacteria and leaves other good bacteria intact.
L. plantarum produces neurotransmitters, chemicals your brain and body use for communication, and ensures that they are in balance with one another. Symptoms of imbalanced neurotransmitters include anxiety, depression, irritability, and brain fog. L. plantarum also supports the gut-brain axis in building a healthy stress response. As a result, some people may find that it improves their mood, stress resilience, and cognitive function.
If you have a healthy immune system, you can effectively fight off an infection. L. plantarum can support balanced and healthy immune function.
Bad bacteria are associated with fatigue and increasing hunger, which often leads to weight gain. P3OM good bacteria can kill bad bacteria and repair the gut tissues, which also helps with proper nutrient absorption. When combined with a healthy diet and exercise regimen, these effects support weight loss efforts. These effects support weight loss efforts in combination with diet and exercise.
P3-OM is a proteolytic bacteria strain, which can support your protein digestion and assimilation so your body has enough "building blocks" to create new muscle tissues. Along with proper training, optimal digestive function and protein assimilation are critical for muscle building. Incompletely digested proteins from bodybuilding-style diets can also create unhealthy metabolic products, which P3-OM can help to break down.
Especially protein, so you can take advantage of all the nutrients you're feeding your body.
Digestive health products